Club show – Ronnie Burns +Judges Report
Psi - Male
Třída dorostu - Puppy Class +Judges Report
VN1 ZOTTELS DEVIL WEARS PRADA AR00888501, 14.2.2014
­­­ NEJL.ŠTĚNĚ Otec: Eldorado aus dem Elbe-Urstromtal Matka: Zottels Quintessence
Chovatel: Christina Bailey Majitel: Danuše Horáková
Třída mladých – Junior Class
V1,CAJC ENZO FERRARI Bambini di Praga CMKU 2825/13, 8.7.2013
NEJL.MLADÝ Otec: Hotnspicy aus dem Elbe-Urstromtal Matka: Zottels Once Upon a Time
Chovatel: Blanka Roudnická Majitel: Martina Matuščinová
V2 PERCIVAL Modrý kaňon CMKU 2832/13, 17.9.2013
___________ Otec: Argovian In Love with Ambasstown Matka: Oda May Modrý kaňon
Chovatel: Petra Márová Majitel: Petra Márová + Jaroslav Lameš
V3 ZOTTELS CASANOVA H54121, 2.11.2013
­­­ ___________ Otec: Zottels Just As-U Like It Matka: Zottels Moments In Time
Chovatel: Christina Bailey Majitel: Laurita Raabe
V4 ESPRIT Bambini di Praga CMKU 2826/13, 8.7.2013
___________ Otec: Hotnspicy aus dem Elbe-Urstromtal Matka: Zottels Once Upon a Time
Chovatel: Blanka Roudnická Majitel: Jiří + Jiřina Královi
V EVERGREEN Bambini di Praga CMKU 2827/13, 8.7.2013
___________ Otec: Hotnspicy aus dem Elbe-Urstromtal Matka: Zottels Once Upon a Time
Chovatel: Blanka Roudnická Majitel: JUDr. Josef Juras
V PAMPALINI Modrý kaňon CMKU 2831/13, 17.9.2013
__________ Otec: Argovian In Love with Ambasstown Matka: Oda May Modrý kaňon
Chovatel: Petra Márová Majitel: Alexandra Moslerová
V PIEROT Modrý kaňon CMKU 2833/13, 17.9.2013
___________ Otec: Argovian In Love with Ambasstown Matka: Oda May Modrý kaňon
Chovatel: Petra Márová Majitel: Mgr. Eva Kijonková
Mezitřída - Middle Class
V1,CAC AL CAPONE JUNIOR Futrzak PKR.I-73856, 11.10.2012
____________ Otec: Zeppeline Al Capone Matka: Wuzetka Kudlaty Tramp
Chovatel: Ewa Wiktorowska Majitel: A.Kwiatkowska + K.Rostworowska
Třída otevřená - Open Class
V1,CAC TOBIAS von Auenwiesen CMKU 2812/-11/11, 4.5.2011
___________ Otec: Rasputin von den Blue Zottel´s Matka: Venivici Kylie Minoque
Chovatel: Anett Mecklenburg Majitel: Michal Fišer
V2 DAIMÓN Bambini di Praga CMKU 2816/12, 14.3.2012
___________ Otec: Silvery Bear Göd Wide Boy Matka: Zottels Once Upon a Time
Chovatel: Blanka Roudnická Majitel: Hana Vališová
Třída vítězů - Winner Class
V1,CAC Ch. Danish Delight RASMUS REX DK17546/2011, 5.10.2011
NEJL.PES Otec: Aryakas Klytos Matka: Danish Delight Knock-Out
Chovatel: Birgitte Schjoth Majitel: Birgitte Schjoth
V2,R.CAC Ch. ZOTTELS XFACTOR CMKU 2814/-12/11, 1.8.2011
KLUB.VÍTĚZ Otec: Aryakas Ikaros at Noggybanks Matka: Zottels Made in Heaven
Chovatel: Christina Bailey Majitel: Danuše Horáková
V3 Ch. ASTERIX BAMBINI DI PRAGA CMKU 2748/08, 28.3.2008
___________ Otec: Aryakas Callipous Matka: Arizona aus dem Rotmaintal
Chovatel: Blanka Roudnická Majitel: Simona Fejfarová
Feny - Female
Třída štěňat - Baby Class
VN1 AIMEE Hluboká n.Vltavou CMKU 2839/14, 19.3.2014
___________ Otec: Hotnspicy aus dem Elbe-Urstromtal Matka: Adelaide Bears of Love
Chovatel: Zbyněk Bursík Majitel: Hana Drkošová
Třída mladých - Junior Class
V1,CAJC PORSCHA Modrý kaňon CMKU 2836/13, 17.9.2013
___________ Otec: Argovian In Love with Ambasstown Matka: Oda May Modrý kaňon
Chovatel: Petra Márová Majitel: Blanka Vošmiková
ABS. PETRONELLA Modrý kaňon CMKU 2835/13, 17.9.2013
___________ Otec: Argovian In Love with Ambasstown Matka: Oda May Modrý kaňon
Chovatel: Petra Márová Majitel: Karolina Morisson
Mezitřída - Middle Class
V1,CAC ARLETKA Kudlaty Tramp PKR.I-71456, 17.9.2012
____________ Otec: Soft Motion´s Catch of the County Matka: Ulubiona Kudlaty Tramp
Chovatel: Krystyna Rostworowska Majitel: Krystyna Rostworowska
V2,R.CAC Danish Delight SEEING IS BELIEVING DK16540/2012, 18.9.2012
___________ Otec:SECH CRCH Dizzny's Stefanos Athanasiadis
Matka:DKCH, SECH, NORDW08 Danish Delight Knock-Out
Chovatel: Birgitte Schjoth Majitel: Birgitte Schjoth
Třída otevřená - Open Class
V1,CAC ORANGE BLOSSOM of Silver Whirlwind MET.Bobt.2326/12, 1.4.2012
____________ Otec: Manrose Plaisir D´Amour Matka: Look At The Stars for Silver Whirlwind
Chovatel: Georgina Varga Majitel: Georgina Varga
V2 NEW YORK von den frechen Bobby´s VDH/ZBrH 17262, 26.6.2012
___________ Otec: Silvery Bear Göd Wide Boy Matka: Ice Age von den frechen Bobby´s
Chovatel: Laurita Raabe Majitel: Laurita Raabe
V3 CAROLAN Bambini di Praga CMKU 2808/11, 17.9.2011
____________ Otec: Zottels My Name is Bond Matka: Arizona aus dem Rotmaintal
Chovatel: Blanka Roudnická Majitel: ing. Marcela Jarošová
V4 CLEOPATRA Shaggy Edition SPKP 1117, 4.6.2012
____________ Otec: Aryakas Kleisthenis Matka: Barking Bobby´s Shania Twain
Chovatel: Eleonóra Jamborová Majitel: Ondrej Socha
V ORNELLA MUTI Modrý kaňon CMKU 2804/10, 19.12.2010
____________ Otec: Aryakas Hercules Matka: Matylda Kudlaty Tramp
Chovatel: Petra Márová Majitel: František Tomášek + Jaroslav Bernat
Třída vítězů - Winner Class
V1,CAC ICh. ZOTTELS ONCE UPON A TIME CMKU 2744/-08/07, 13.9.2007
NEJL.FENA Otec: Aryakas Callipous Matka: Zottels Encore
KLUB.VÍTĚZ Chovatel: Christina Bailey Majitel: Blanka Roudnická + Danuše Horáková
ABS. Ch. ODYSSEA Modrý kaňon CMKU 2801/10, 19.12.2010
____________ Otec: Aryakas Hercules Matka: Matylda Kudlaty Tramp
Chovatel: Petra Márová Majitel: Simona Fejfarová
Třída veteránů - Veteran Class
V1,BOB ICh. UNDINE von den Blue Zottel´s CMKU 2721/-06/06, 30.1.2006
NEJL.VETERÁN Otec: Aryakas Cosmo Junior Matka: Rapunzel von den Blue Zottel´s
BIS-VÍTĚZ VALTIC Chovatel: Brigitte + Matthias Leonhardt Majitel: Renáta Kňákalová + Petra Márová
V2 ANTONIE OD PROSECKÉ SKÁLY CMKU 2694/04, 1.12.2004
____________ Otec: Anthony od Chumbárku Matka: Camilla ze Stříbrné stráně
Chovatel: Blanka Hanusová Majitel: Blanka Hanusová
Třída ostříhaných – Short coat Class
V1 Z´ADELE Kudlaty Tramp PKR.I-69883, 1.12.2011
____________ Otec: Stefano Super Star Kudlaty Tramp Matka: Morgana Modrý kaňon
Chovatel: Krystyna Rostworowska Majitel: Maciej Cybulski
V2 ZIUTA BINIEK Kudlaty Tramp PKR.I-69751, 1.12.2011
____________ Otec: Stefano Super Star Kudlaty Tramp Matka: Morgana Modrý kaňon
Chovatel: Krystyna Rostworowska Majitel: Maciej Cybulski
ABS. CUBA LIBRE Bambini di Praga CMKU 2811/11, 17.9.2011
____________ Otec: Zottels My Name is Bond Matka: Arizona aus dem Rotmaintal
Chovatel: Blanka Roudnická Majitel: Blanka Roudnická
Soutěže – Competitions
Chovatelská skupina - Breeder´s Group
1 BAMBINI DI PRAGA chovatelka: Blanka Roudnická
2 MODRÝ KAŇON chovatelka: Petra Márová
KLUBOVÁ VÝSTAVA OČIMA ROZHODČÍ
Ráda bych poděkovala výboru klubu za pozvání k posuzování této krásné výstavy na skvělém místě. Zvláštní poděkování Daně (vedoucí kruhu) a Šárce (naší tlumočnici) za jejich milou společnost, výborně se o nás postaraly. Díky patří i naší zapisovatelce Kačce, která odvedla skvělou práci.
Vzali nás do krásného zámku Lednice s nádhernými zahradami, do super skleníku s mnoha exotickými obřími rostlinami. Velké potěšení pro milovníky rostlin.
Počasí bylo ideální pro posuzování. Můj BOB a BIS byla krásná osmi a půl letá veteránka, fena ICH Undine von den Blue Zottel´s. Nemohla být jí odepřena nejvyšší ocenění - vynikající stavby těla, kondice první třídy, ladného pohybu a v úžasné kvalitě srsti, dobře předvedená. R.BIS, můj Klubový vítěz pes a BOB nedělní výstavy Ch Zottels XFactor, krásný pes, ve výborné kondici, dobrý v pohybu. Můj Nejlepší pes, Ch Danish Delight Rasmus Rex, kompaktní pes ladné stavby těla, dobře vyvážený, ve výborné kondici. Klubový vítěz Fena ICH Zottels Once Upon a Time, fena pěkné stavby těla, hezkého typu a tvaru, dobrého pohybu. Nejlepší štěně výstavy Zottels Devil Wears Prada, super štěně, krásného typu a stavby těla, dobré barvy očí a skusu, velmi ladný v pohybu a dobře vychovaný, chvála jeho majitelce.
Děkuji vystavovatelům za jejich velmi dobrou účast. Posuzovala jsem nádherné psy, jen bych ráda zmínila péči o srst ve třídách mladých a v mezitřídě, kde při česání je třeba zachovat podsadu. V těchto třídách by rovněž pomohlo zlepšení předvedení v kruhu v postoji a v pohybu.
Ještě jednou vám děkuji za krásnou výstavu.
Ronnie Burns
JUDGES REPORT
Saturday 23rd August and BIS.
I would like to thank the committee for inviting me to judge this lovely show at a wonderful venue. Very special thanks to Dana (ring steward) and Sarka (our interpreter) for their companionship and looking after us so well. Also to our scribe Kacka who did a grand job.
We were taken to the beautiful Chateau Lednice with its lovely gardens, super glasshouse with many exotic giant sized plants. Such a pleasure for someone who loves plants.
The weather was perfect for judging, My BOB and BIS was the beautiful 8 1 year old Veteran female ICH UNDINE von den Blue Zottel's. She could not be denied top honours – excellent construction, first class condition, sound movement in superb quality jacket, well presented. RBIS, My Best Club Winner also BOB from Sunday Ch Zottels XFactor a lovely male, in excellent condition, moving well. My Best Male, Ch Danish Delight Rasmus Rex, compact soundly constructed male, well balanced, in excellent condition. Club Winner Female ICH Zottels Once Upon a Time, Nicely constructed female, good make and shape, moved well. Best Puppy in Show. Zottels Devil Wears Prada, Super puppy, lovely make and shape, good eye colour and bite, so very sound on the move and well behaved, a credit to his owner.
Thank you to the exhibitors for their very good entry. Lovely dogs for me to judge, I would mention a little care in the Junior and Middle classes when grooming, need to preserve undercoat. Some attention to ring craft would also help in these classes to improve presentation standing and on the move.
Thank you again for a lovely show.
Ronnie Burns
x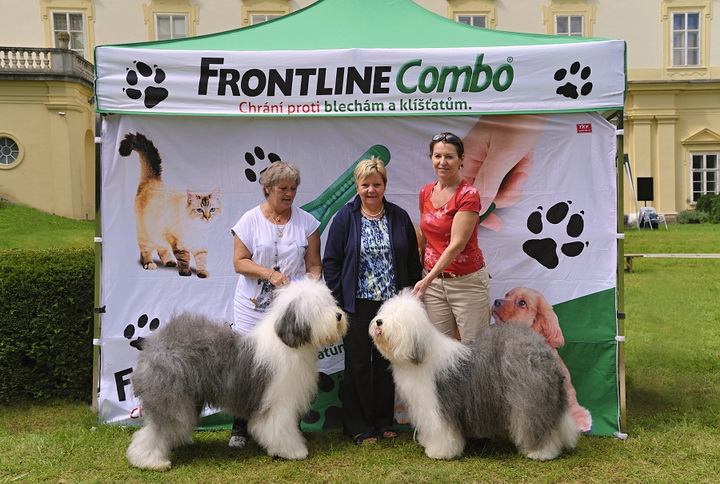 BOB, BIS - VÍTĚZ VALTIC ICh. UNDINE von den Blue Zottel´s