Judge report
I received the phone call in Tallin, Estonia. I was there to judge the first club show and the bad news was that my good friend, Jan Betts, would not be able to judge the Czech OES Club show due to ill health and would I be able to stand in at short notice.
The diary said yes and a phone call to Jan Betts to check with her and get her OK sealed the judging appointment.
The Club show was on the Saturday 12th September and I was to judge the Speciality Show on Sunday. The show is held in the south east of the Czech Republic almost on the border with Austria at the Valtice Chateau and is a part of the UNESCO world heritage site of Lednice. This is where the Euro show was held in 2001.
The 17th century hotel is full of character, offers excellent wine from its extensive cellars and has paths ideal for walking OES around the park and gardens.
An entry of 31 OES on both days prompted the committee to run both shows on the Saturday, so Mark Wibier of the Sweet Expressions kennel formerly of Holland but now based in Germany, stood in the outside ring at 10.15 ready to judge on a warm but cloudy day.
Karolina Morrison was his critique writing steward and the show made steady progress and finished at 1.30 when lunch was taken.
The special show started at 2pm and I found the grassy ring was bumpy with lots of pine cones from the surrounding trees. The sun was shining and the suit jacket was soon removed. My critique writing steward was Angela, my wife, and we soon had all the dogs evaluated and placed. The Best in Show was announced at 6pm and both judges decided on Zottels My Name is Bond, making this two years running for top honours. He was also my Best of Breed with Danish Champion Danish Delight KnockOut my Best Opposite Sex. Full results will follow along with a catalogue.
I was generally pleased with my winners, some still have improvements to make, especially eye colour. Light brown eyes often follow light coat colour, but I prefer really dark brown eyes and this is found on the dogs with a blue skin colour that usually produces a better colour and quality of coat. Teeth were good and I carefully checked each dog to describe the bite for the Club's records. Some teeth were discoloured and need dental hygiene. Ears were small and neat, clean and well set on the side of the head, with only a few flying away. Neck length is a major problem in the breed. Too many are short, some just on the minimum, but only a few had the length that gives balance to the overall shape. Shoulders were OK some carrying too much weight that pushes the points apart. Only a few were too steep. Fronts were good with strong flat bone and only a few were a little wide when standing or on the move. Briskets were mostly deep to the elbows a few were shallow and most had a good spring of rib. Couplings were correct, the joining of the front assembly to the rear with a good tuck up after the rib cage. Rear assemblies were generally sound, well muscled with correct sweep of stifle. A few were straight in stifle with poor angulation at the hocks. A big problem is the rise to loin. It is a unique feature in the OES. From the shoulders to the rump there should be a distinct rise. My hands showed a level topline on some and a dropping away on one young dog. Coats were generally well groomed and to be expected after a show in the morning and a 'going over' from another judge. Only two dogs were matted and showed signs of last minute severe grooming, lack of undercoat and broken ends of guard coat. Harsh texture is a rare thing to find in a modern OES. I was delighted to find a correct jacket on the Best Veteran wearing a strong blue harsh coat and she could move. Movement was OK on this rutted surface. A few dogs could stride out but it was hard going for some. Remember ours is a Pastoral breed, it has to be able to deal with all terrains. Some handlers are restricting their dogs by wearing unsuitable footwear and by being unfit to run around the ring more than once at a pace that keeps up with the dog. Presentation was good, trimming and clipping was not excessive and many had a wealth of undercoat.
My ring steward was excellent and helped with translation and explanations of my findings. I thank the exhibitors for taking my decisions in a sporting manner and making my judging appointment so enjoyable.
The gala dinner after the show was held in the basement of the hotel, a converted wine cellar that made a wonderful disco club with all the atmosphere of a good night out. The language barrier is a problem, but the Danes, Dutch, Germans and many Czechs speak excellent English so conversation is possible over the meal.
Midnight soon arrived and we said our goodnights.
Sunday was now free so after a long and leisurely breakfast spent talking with exhibitors and new friends, Mark, Angela and myself visited the Palace at Lednice, a short journey in Mark's rented car. Much European Community money has been lavished on this World Heritage site and the work continues to restore the many fine buildings to their former glory. We took lunch in the garden restaurant then a stroll round the gardens and the Palm House, similar to that found in Kew Gardens in London. Mark kindly drove us to the airport hotel at Brno, ready to return to Stansted the next day. I shall look forward to 2011 and the Euro Show coming to Valtice. I hope the Czech Club put on a great show, the venue is good and the enthusiastic committee will work together and provide an unforgettable experience. They did this year.
Ray Owen (Amblegait)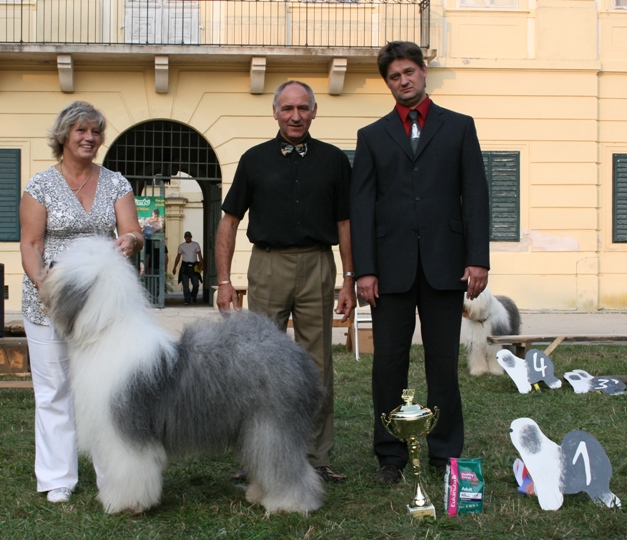 BIS 2009
ZOTTELS MY NAME IS BOND CAC, Best dog, BOB