Judge report
I would like to thank the Club for inviting me to judge at the above show.
My husband accompanied me on this trip and we would both like to thank the Club for extending such a warm welcome and wonderful hospitality to us during our stay in the Czech Republic and a special mention goes to Karolina and Brian Morrison for their company and chauffeur/tour guide duties!
The venue for this show – Hotel Hubertus (a 1600 Palace) was of great architectural beauty and in wonderful surroundings. Rings were set out in the grounds. The weather was not too hot and the blue sky was endless. One could not possibly have wished to judge at a more perfect place.
My Co-judge for this two day show was Mr. Woody Nelson.
Exhibitors had travelled from several countries and I would like to thank you all for entering under me, giving me the opportunity to judge your dogs and for you to receive my opinion of them.
I was very pleased with the quality of the dogs; they were of good type and most were very sound, with good coats and good bone.
Old English Sheepdogs in the UK used to be the most sought after stock, but now that you have most of the gene-pool on the Continent and with your very good breeding programmes, you have achieved breeding only the best to the best.
Temperaments were absolutely delightful, which was reflected in the casual way that most exhibits were able to mingle and roam with everyone. One dog's name (a bitch which will remain anonymous!) made me laugh – she was the ringleader and all you could hear was her name being constantly called, even in the Hotel corridor. I have decided that the next bitch puppy I own will be called this name – so watch this space to solve the mystery!!
My main criticism was that strength of heads, stops and skulls was rather lacking in several exhibits – something that needs watching.
Many exhibits who had also been judged by my co-judge, changed places when shown under me, however it can only be a good thing to have two opinions and two critiques. We did agree on our main winner – the dog Champion Aryakas Cosmo Junior, who was of outstanding quality. He could certainly win well at any UK show, under judges who would appreciate his excellent qualities.
Under the grading system that you have on the Continent, I could not find any exhibit, which in my opinion, should not be graded excellent. It was possible to find minor faults, but there was not an exhibit entered at this show, which could not compete and win in the UK. They fitted the Breed Standard well.
You certainly have some lovely stock and bloodlines to breed on from in the future.
The best puppy dog and bitch, were both sired by Champion Aryakas Cosmo Junior – they are of outstanding quality and Breed type. I would be proud to own either of them and will watch their show careers with interest.
I would like to thank my two Ring Stewards (especially Micky for entertaining us at the Dinner Party!)
The Club put on an excellent Dinner and Cabaret. The hard working committee made certain that everything ran smoothly for the whole week-end and must be congratulated for their efforts.
I would like to extend my thanks to the Club and Committee once again for kindly inviting me to judge at this show and also for giving me the opportunity to spend five wonderful days in Prague and the Czech Republic. Thank you all for your kind hospitality.
Kind Regards
Ann Titheridge
HAMBLE OLD ENGLISH SHEEPDOGS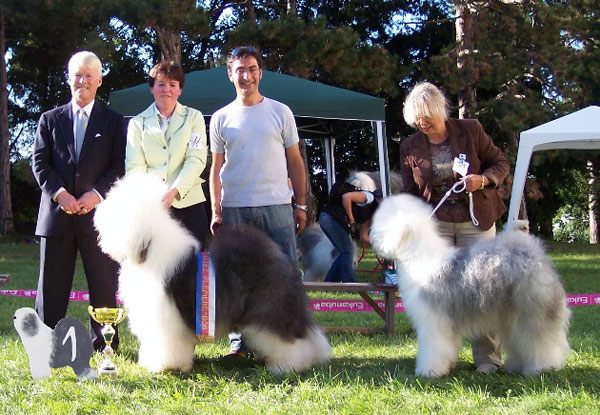 BIS 2006 Ch. ARYAKAS COSMO JUNIOR